Key points:
Jones coached the Wallabies from 2001 to 2005, including a World Cup final in 2003
Rugby Australia says it could not pass up the chance to get Jones back for the World Cup, starting in September
Rennie had coached the Wallabies since 2020 and finished with 13 wins from 34 games
Jones will coach the men's national team and "oversee the Wallaroos program as Rugby Australia pushes forward towards a professional future for the Women's XVs game".
"As a proud Australian, it is a great honour to be able to come home and lead the national team during these years," Jones said.
"The Wallabies squad is a really talented group of players with good depth — if we can have everyone fit and healthy going into the World Cup this year, I am confident that we can go to France and break the 24-year drought of winning the Rugby World Cup.
"I saw how gutsy the Wallaroos were in the Rugby World Cup in New Zealand last year — it looks like there is a real spirit in that group that will drive the women's program forward ahead of their next World Cup in 2025."
The 62-year-old, who coached the Wallabies from 2001 to 2005, has been in charge of Japan (2012-15) and England (2015-22) for the past decade.
Just as he did with the Wallabies in 2003, he coached England to a runner-up finish at the last men's World Cup, in 2019, and ended with a 73 per cent winning record.
Jones's contract will last until 2027, with Rugby Australia (RA) chairman Hamish McLennan saying his understanding of the sport in Australia should serve him well in his second stint in charge.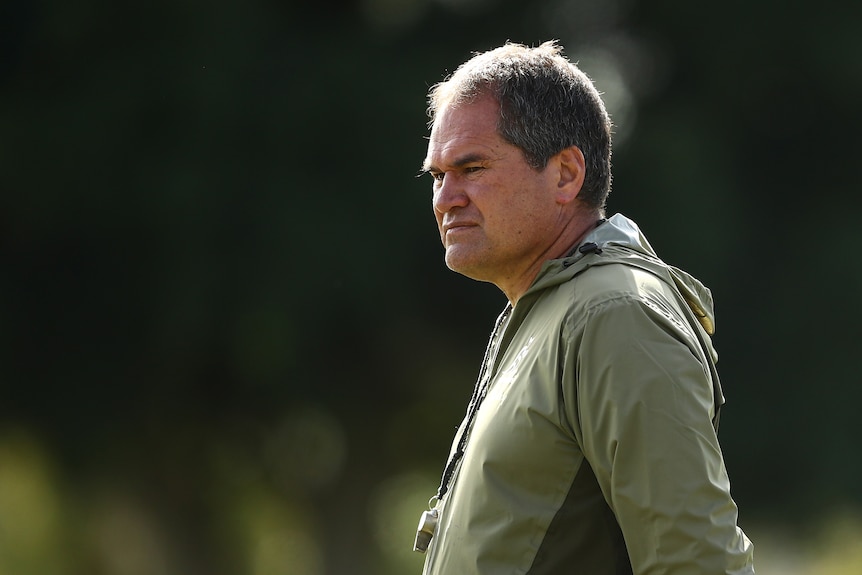 Dave Rennie has been let go by Rugby Australia.(Getty: Chris Hyde)
"It is a major coup for Australian rugby to have the best coach in the world return home to coach the iconic Wallabies and to oversee the Wallaroos program," McLennan said.
"Eddie's deep understanding of our rugby system and knowledge of our player group and pathways will lift the team to the next level.
"Eddie instinctively understands the Australian way of playing rugby — this represents an opportunity to secure a coach of immense expertise and experience at the biggest competitions, and we did not want to miss it."
This year's men's World Cup starts in early September in France.
The Wallabies battled with a massive injury toll in 2022 and finished with a 5-9 win-loss record, taking Rennie's overall record with the team to 13 wins, 18 losses and three draws since taking over in 2020.
"Dave has been instrumental in developing much of the depth that we see in and around the current Wallabies squad; there are a number of players that are genuine World Cup possibilities because of opportunities that Dave has provided," RA chief executive Andy Marinos said.
"The work ethic, the spirit within the group, and the way the team carries itself are all a direct result of Dave's input – he has made a real mark on this group of players."
Story first published on ABC News Australia